Cobalt Chrome Molybdenum Alloy
Table1 Chemical composition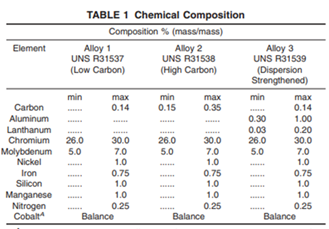 1.Cobalt-chromium-molybdenum alloys, cobalt-chromium-molybdenum rods, rings,artificial joints and other products produced by Changzhou Alloy IndustrialCo.,Ltd., according to customer needs, strictly follow the international and domestic standards ASTM F75 and ASTMF1537-20 , GB/T -14992-2005; GB/T-15007-2008 and other standard productionto ensure the consistency of the composition and performance ofcobalt-chromium-molybdenum alloy bars, wires and castings used in themanufacture of medical equipment.
2. The carbon content of the alloy product can be customized accordingto the specific needs of customers. According to the chemical composition, itcan be divided into low-carbon and high-carbon alloys (Alloy 1 and Alloy 2 inTable 1). Alloy 3 is a dispersion strengthened alloy containing fine aluminalanthanum oxide/nitride.
3. Changzhou Alloy Industrial Co.,Ltd. adopts high vacuum inductionfurnace smelting process to produce cobalt-chromium-molybdenum alloy products,in which the composition is controlled accurately, the effect of removingimpurities such as S and P is excellent, and the content of O, N and othergases is ultra-low.
4. Guaranteed productquality: third-party authoritative test reports such asSGS, National Iron and Steel Material Testing Center, National NonferrousMetals and Electronic Materials Analysis and Testing Center, etc. can beprovided
5.Good biocompatibility: Cobalt, chromium andmolybdenum have been successfully used for many years in the application ofhuman implants in contact with soft tissue and bone (since 1985). There is noknown case of such cobalt-chromium-molybdenum alloy causing adverse reactionsin the human body
Physical properties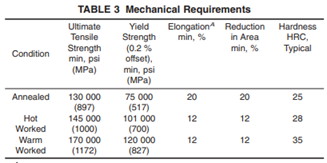 Changzhou Alloy Industrial Co.,Ltd. canprovide cobalt-chromium-molybdenum rods, cobalt-chromium-molybdenum rings,artificial joints and other forging, rolling, precision casting and otherprocesses of Stellite cobalt-chromium-molybdenum alloy products according tocustomer needs.